Sins of the Night
by
Sherrilyn Kenyon
My rating:
3 of 5 stars
In the realm of the Dark-Hunters there is a code of honor that even immortal bad boys must follow:
Harm no human. Drink no blood. Never fall in love.
But every now and again a Dark-Hunter thinks himself above the Code. That's when I'm summoned. Who am I? I'm the one thing the fearless fear. Step over the line and it's my wrath you will face. Nothing can touch me. Nothing can sway me. I am relentless and unfeeling.
Or so I thought until I met a female Dark-Hunter who goes by the name of Danger-it's not just her name, it's how she lives her life. She doesn't trust me at all. And who could blame her? She alone knows that I'm here to be judge, jury and most likely executioner of her friends. Yet she is my key to saving some of them. Without her, they all will die.
Dangereuse St. Richard is a deadly distraction. Something about her is reawakening a heart I thought was long dead. But in a race against evil, the only hope mankind has is that I do my duty. And how can I do my duty when it means that I will have to sacrifice the only woman I've ever loved?
It took me a while (a very long while) before i finally finished Sins of the Night. The story took place in Mississippi, so it was kinda like breather from all the crazy happenings in New Orleans. Dangereuse is the first woman Dark Hunter to have a HEA. I didn't love her as much as I did with the other heroines I have read of so far though.
The Alexion, I did find as a likable character. I just had a good deal of confusion on whether he was supposed to be a being who didn't feel any emotion. There were definitely moments when he felt the emotions of an average human and yet he didn't find that surprising. Sure he assumes human form from time to time to act as judge, jury & executioner to rogue Dark Hunters, but wasn't the last time he was corporeal like years and years ago? Even then, I still found him likable because of one very important reason I personally vote that all Dark Hunters to pay tribute to Alexion at least once in their immortal life.
My reaction:
when i read about the dark hunter rebellion and the theories about Ash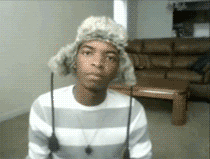 when Ash saves the day (deus ex machina i know, but still):
View all my reviews